We need your help!
Since the outbreak of the war in Ukraine, the number of children left without a family is growing.
Our and your support will allow the Association to maintain its commitment to the Ukrainian people and, at the same time, not turn off attention to this immense humanitarian crisis, continuing to celebrate and speak about freedom as a right to be preserved and defend in all its expressions.
It is estimated that, in Lviv alone, there are over 1,500 children without families, too many to remain indifferent. For this reason, we at Mytech – a brand specializing in the production of Made in Italy suitcases and accessories for motorcycle touring – have opened a fundraiser with Don Michele Zanon's Cavalieri delle Nubi Association which, following the Russian invasion, started a support work for five orphanages in the area. Unfortunately, the situation in which these children live is precarious and difficult, not only from an economic point of view, but above all from a psychological and human point of view.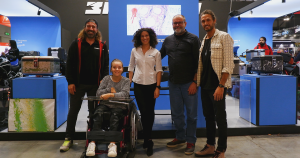 The "The Freedom Cases" project is designed not only to help the children of Ukraine in a concrete way, but also to send out a loud and clear message: individual and social freedom is a right to be preserved and defended in all its expressions, above all in a historical moment like this which, paradoxically, seems to be being questioned not only in Ukraine, but also in many other areas of the world.
For the most generous donors, we have provided exclusive prizes from the "The Freedom Cases" project. We asked 3 artists to customize the cases through graphics that interpreted the theme of freedom, a value that has always been part of the DNA of the brand and of the whole world of two wheels. The result is unique and exclusive designer pieces, which through images and colors speak not only of the pure and simple freedom to travel, but also that of expressing yourself, living and connecting with your surroundings. The "Designer Cases" are signed by names already known in the motoring world: Filippo Fiumani aka MANI, an artist and designer from the Marches, Pasquale Esposito, of EvoSound, a company known for exclusive car customizations, and the adventure rider Simone Zignoli with Marika Lodirio, a tetraplegic girl with whom he shared an incredible experience on the road two years ago.
Support the cause too, DONATE NOW and give a smile to all those children who died too often.