Even the latest edition of Eicma has just ended. Mytech, like other companies in the sector, brought various innovations to the fair. The Soft-x bags, a line of soft bags that can be applied to our Mytech frames and the possibility to customize the cases with the wrapping technique. (see Mytech news)
In addition to these innovations, Mytech has decided to support a fundraising project for the Cavalieri Delle Nubi, Don Michele's association, to help orphan children in Ukraine. (see Mytech project) To participate in this project "The Freedom Cases" I invite you to visit the website www.retedeldono.it .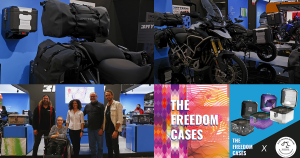 The Freedom Cases initiative and the Mytech 2023 news have been reported by various magazines, have you already had the opportunity to read them?
CORRIERE
ROADBOOK
VANITY FAIR
ILSOLE24ORE
GAZZETTA MOTORI
DUERUOTE
ROADBOOK
MOWMAG
WHEELSMAG
WEBPOST